Discover & Unwind
Explore Guttland's most beautiful circular walks
Unspoilt forests and meadows, secluded rock formations, hidden streams, little lakes and stunning views – with so many varied landscapes, Guttland is perfect for short walks that every hiker will love.
Guttland.Trails:
.
.
Useful to know: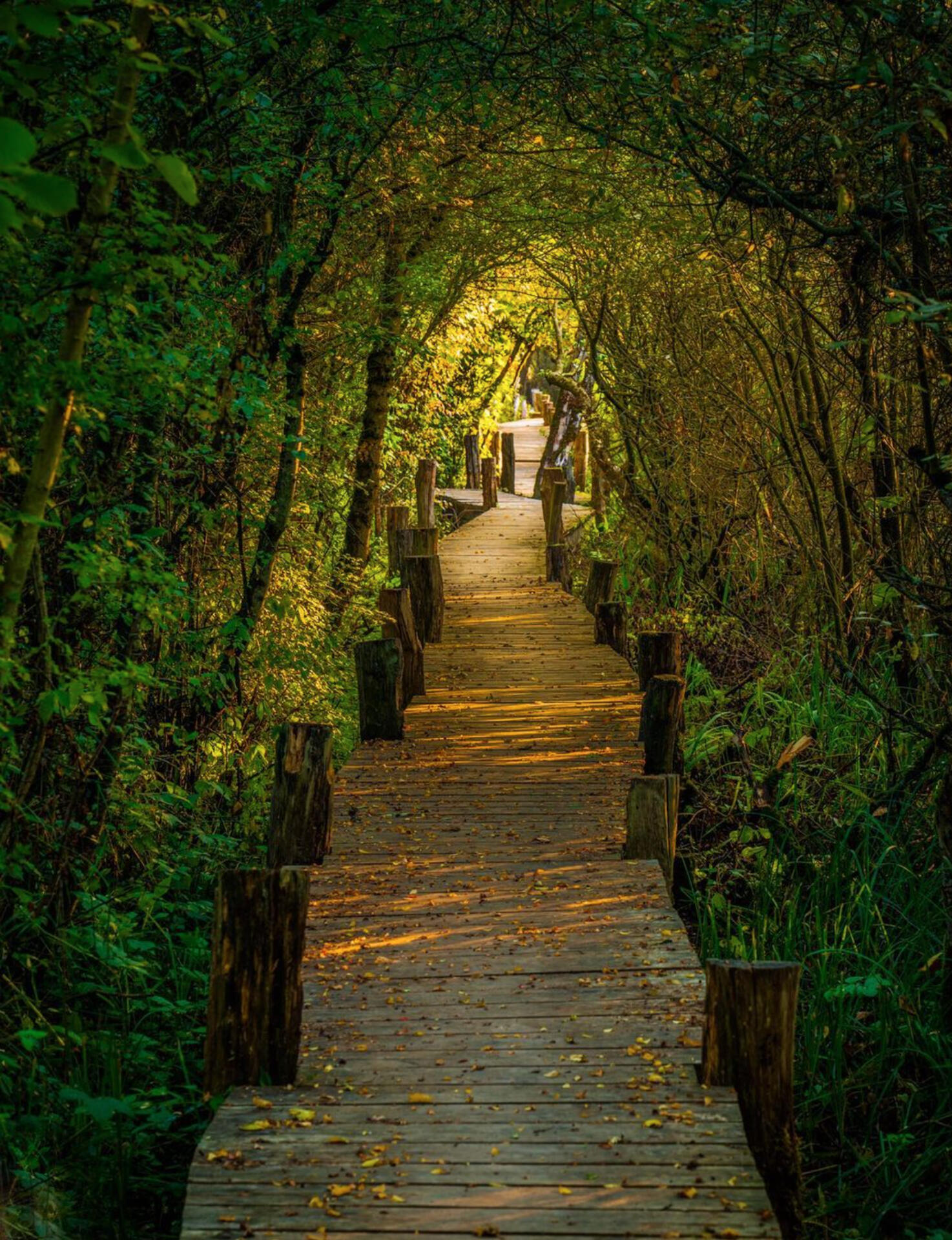 Visit Guttland
Located right at the heart of Luxembourg, Guttland boasts amazing scenery and heritage that is just waiting to be discovered!Explore new places and unwind at the same time: Guttland is proud to be a "slow tourism" destination and that slower pace of life can also be enjoyed on the Guttland.Trails. These circular walks are ideal for anyone looking to slow down and soak up the peace and quiet and the joys of nature.
Enjoy the tranquillity of secluded woods
.

Siwe Brécke-Wee
Little ponds, bark mulch paths, a stream winding through the mysterious Schankegriecht valley, numerous narrow wooden bridges, the peace of nature … the perfect place to relax and recharge your batteries!This Guttland.Trail takes you through the Schankegriecht – a valley named after the legend of the "Schankemännchen", a "little bone man" who is said to have inspired fear and dread in the inhabitants of the surrounding villages.
TYPE: Circular walk
START/FINISH: Rochus Kapelle, Reimberg
FREE PUBLIC TRANSPORT: bus-stop "Reimberg" (730 m)
.
Historic setting and fantastic scenery
.

Fuussepad
Mighty forests, picturesque rock formations and expansive meadows provide the natural backdrop to this varied Guttland.Trail. In the stillness that you'll experience among the historic remains of Roman temples and along the banks of the Mamer, you'll soon forget your everyday worries.Travel back to ancient times on the Fussepad Guttland.Trail: the Roman villa that archaeologists have excavated originally had 50 rooms and, at 100 m long and 50 m wide, is one of the biggest Roman villas ever discovered in the Grand Duchy.
TYP: Circular walk
START/FINISH: "Bei der Antenn" / Waldspielplatz, Steinsel
FREE PUBLIC TRANSPORT: bus-stop "Steinsel, Michel-Rodange-Plaz" (1,2 km)
.
A woodland experience, pure and simple!
.

Mamerleeën
In the enchanted forest between Mersch and Schoenfels, there are countless unusual and impressive caves and rock formations. The idyllic rural area of Hunnebur and the steep, wooded Wollefsgriecht gorge are exciting places for any nature-lover to explore.The Mamerleeën – one of the highlights of the Guttland.Trail – is an area of natural sandstone caves and a network of artificial tunnels. The cave system extends over more than 1000 metres. One very special place is the "Huellee" (cave) with a picnic site and views of the keep of Schoenfels Castle.
TYP: Circular walk
START/FINISH: Obelisk / Krounebierg, Mersch
FREE PUBLIC TRANSPORT: bus-stop "Mersch, Uewermiersch" (970 m)
.
#guttlandtrails
Follow us on social media for information and inspiration:
.
Share pics and videos of your adventures
on social media using
#guttlandtrails and #visitguttland
COVID-19 Informationen
COVID-19 virus does not only affect the travel industry worldwide. Your health and your safety are the most important for us and we encourage you to follow the guidelines of your country of origin before making travel-related decisions.Please check the current status before entering the country:
Contact
Further information about the region of Guttland
and the Grand Duchy of Luxembourg can be found here:
.
Or simply drop us a line:
.

Regional Tourism Office - Central/Western Luxembourg
B.P. 150 | L-7502 Mersch
LUXEMBOURG
T. +352 28 22 78 62
Partners:
.
© 2022 Visit Guttland. All rights reserved.
Privacy policy.
Photos with friendly approval of the photographers.
.
Website: ampersand.studio
.